---

NEW - 2000W Electric Wide Fat Tire Scooter Design CityCoco Cruiser

(Double Seat + 40AH Double Lithium Battery Pack)
*NEW IN FACTORY SEALED BOX! REGULARLY $2999 AND UP! CLEARANCE SALE ONLY $1995 + FREE SHIPPING

*AVAILABLE with BLACK or WHITE Fender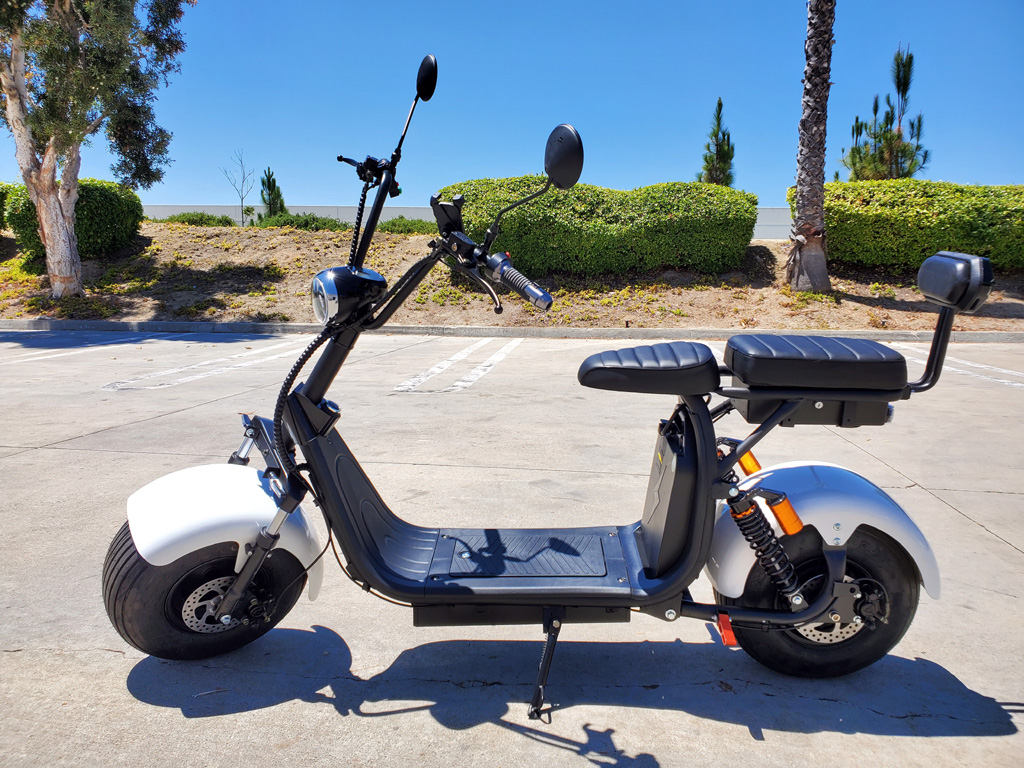 Product Features / Specifications:
***  TONS OF UPGRADES INCLUDED FREE OF CHARGE: Upgraded 2000w motor (many are 1000w/1500w), upgraded High Capacity 40AH Lithium Battery (60V) Removable Batteries, Fat 18" Diameter x 9.5" Wide Tires, Double Seats, Front + Rear Suspension, Front Angel Eye Light / Rear / Turning Lights, Brake Lights, LCD Speedometer, Alarm w/ Remote, Wheel Lock, Key-less Remote Start, Free Spare Keys, Hydraulic Disc Brakes, Built In Bluetooth Sound System, Phone Holder, Side View Mirrors, and more. AVAILABLE WITH BLACK OR WHITE FENDERS. Regularly $2999+, we have these on sale for only $1995. We are also including FREE Shipping for a limited time (Most all areas of the Mainland USA).
FEATURES:
100% New In Box - NOT Factory Recertified / Used, etc.
Model #S5P2000W40AH
Available with Black or White Fenders (We will call before shipping to confirm). These are easy to paint or add custom decals to. We have extra fenders as well if you want to add as spare.
Motor: 60V

2000W
Battery Pack: 60V 40AH High Capacity Lithium Battery Pack. (Others are 12AH or 15AH, they do not have good range). This model will have a 60-75 Mile Range! (Based on road conditions and driving style)
Double Seats
Overall Scooter Size: 76" Long x 18" Wide x 50" Tall (with mirrors / pegs)
Tire Size: 18" Diameter x 9.5" Wide (18x9.5x8)
Suspension: Front Suspension + Rear Suspension Upgraded Added
Braking: Hydraulic Disc Brake
Front Angel Eye LED Light Included
Front / Rear + Turning Lights + Brake Lights
Side View Mirrors
LCD Speedometer Included
Bluetooth Sound System
Free Alarm Included
Phone Holder Included
Bluetooth Audio System Upgrade Included
Golf Bag Bracket Equipped (Golf bag holder option available for $100)
Key-less Remote Start Option Installed
Charge Time: 6-10 Hours
Top Speed - 38+MPH
Max Load Weight - 400lbs
Max Slope Climbing Angle - 30-40 Degrees
Net Weight / Gross Weight: 140lbs / 150lbs *Ships crated in thick wood crate for safety. (~300 pounds for shipping)
Please note new in box scooters will require some assembly
UPC # 741435476328
ADDITIONAL PHOTOS: